From one book lover to another + Happy Unbirthday to me! + Some Lemony Snicket loving
by
alittlehoneyformyheart
So i've been a really, really bad girl (swear i didn't think it would come out sounding that cringey) because i haven't been doing much reading and therefore, i haven't been doing much writing either. I started reading The Goldfinch by Donna Tartt about three weeks ago and i admit that it's a long book, almost a thousand pages long with tiny, tiny font and very thin pages, but what i have read of it so far has been nothing short of amazing. So i don't really know why i've turned myself off of it. After finally getting into the roll of things, at one point i zipped through 200 pages or so within a day, the plot twists and turns absolutely had me within its grip but two weeks down the road, now i can barely bring myself to squinting at more than three pages at a time T.T Reading gods, why have you forsaken me??
I have this thing about being "loyal" to my books and not cheating on them with other books where possible (idk apparently i'm more "promiscuous" than i can help especially when i'm not getting any from my current lay in bed) so no matter how much i'm itching to grab another book of the shelves and give myself up to its embrace, i refrain from doing so because i think that will encourage me to finish my current book. But nooo, Sheyenne still manages to outmaneuver Sheyenne and everything backfires because then i start doing anything but reading and that is worse than cheating IMO. Sigh
Speaking of books though! The Reading Gods have not completely forsaken me, amen thank you hallelujah, because potentially the best thing ever just happened to me today. Obviously, i'm currently taking a break from spending where possible since my personal financial situation is on hold (read: unemployed student) and i'm relying on ahem, other resources at the moment ahem but i simply couldn't pass up this opportunity! I'm about 150% sure anyone who reads this post will agree with me. Here's the 411:
For the past three years or so, my heart has been yearning for this beautiful "A Series of Unfortunate Events Box Set: The Complete Wreck" with all its tiny might. I knew that i could never bring myself to ask anyone to get it for me (although i do expect it of some ahem ahem my boyfriend has got his work cut out for him but to be frank, i just don't like asking) so i had this ingenious plan of saving for it bit by bit by good ol' scrimping and saving and cutting corners here and there, in fact, i'd even start a "Lemony Snicket box fund" just like in the olden days. Not my olden days but the days before online banking. But whenever i had the money at my disposal, typically i just couldn't rationalize forking out $235 on "children's books" and to be completely honest, a box set of books that i'd already read once before would be the furthest thing from my mind during those times. It paled in comparison to all the makeup i could buy and all the good food i could cram into my gut with the money etcetera etcetera. So i never got around to buying it eventhough it has lingered at the back of my mind (and my wishlist) after all this time. A gift that only i could get for myself because in my heart of hearts, i liked it when my boyfriend surprised me with a gift i wasn't expecting and more importantly, something that i didn't have to ask for.
In the end, it was always going to be too special for me to spend on myself (on something that i couldn't be seen wearing around in public. Sigh how absolutely superficial of me right? Fellow bookworms, i swear i have not forsaken you!) and yet not special enough to waste a special occasion gift on it. Oh, the struggle!
But today, the heavenly lights shine favorably upon me and showers its blessings on my very being! I was out with a friend today and we were walking around, blowing time before dinner when we spotted some racks put out in front of a bookstore. Never being in the position to pass up on good book deals (book beggars can't be choosers, especially when you're in Brunei!), we saunter casually over. But i can barely believe my eyes when i find two Lemony Snicket paperbacks! And then a third and fourth one! Books 4, 6, 9 and 10 respectively. On the discount rack. CAN IT BE-
I immediately make a bee line for the cashier when the sales person sees my excitement and tells me that they have the whole collection and would i like her to get them out for me? Usually these books come at $21 per book for the hardback (sometimes this even varies depending on which book you're getting, they're not all $21) and $16 for the paperback so i'm not really interested in seeing them as much i am in knowing their price. BUT THEN SHE TELLS ME, THAT THEY'RE SELLING THEM AT 5 BUCKS PER BOOK AND I ALMOST DIE FROM CHOKING ON AIR. I do some quick calculations in my head and that means that i'd be purchasing the whole series for only $65, a whopping quarter of the normal price, box set or individually! I CAN'T EVEN HANDLE LIVING AT THIS POINT
She makes a few calls and tells me that she'll track them down for me from the other branches and that she'll get in contact when all of the parts arrive. I know i probably should wait til then but i'm terrified that they're going to accidentally sell them off to someone and forget about me so i buy all four first. I've gone back there about three times now so i'm doing my best to hold back in case i annoy them and then they'll stop wanting to look at these books for me mehehehe. It's all i can do to not start reading the books i have with me because obviously they won't make sense but eughhh i can't wait! (Okay so maybe i read the first few pages of The Carnivorous Carnival so sue me!)
Leaving you with some amazing tingly Lemony Snicket quotes! There are so many good ones from the series, i can't stop reading them and it's already making me giddy! It feels like i'm stealing a bit from a good thing, like taking small bites of the last soft-bake cookie from the cookie jar right before dinner all the while knowing that when your mom finally tells you that it's okay to eat the cookie, there will barely be enough to savour but y'know *shrugs*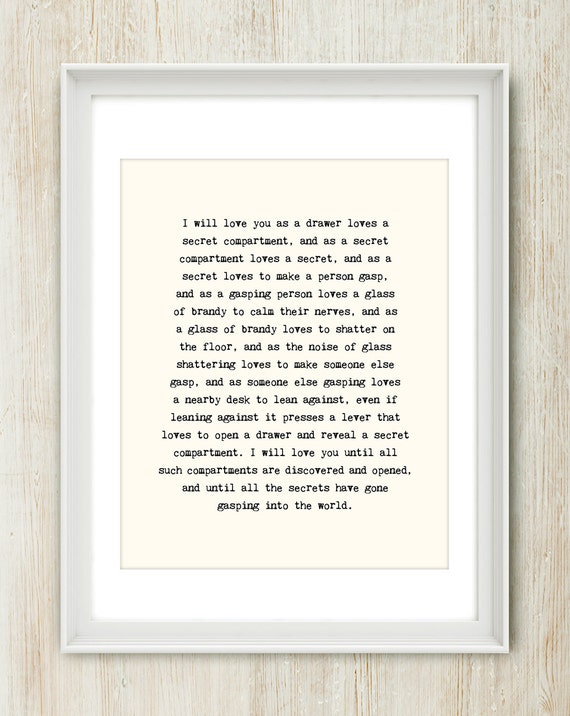 That's all! xx