A Dry Spell
by
alittlehoneyformyheart
So in my previous post i was whining about how dry my skin has been lately with an empty promise of some pictures the next day WHICH DIDN'T HAPPEN FOR A GOOD REASON. My skin rehydrated on its own by the next day! Yayyy! Well not completely on its own…which is precisely what this post is about.
P.s. Before i launch into the products that i've been using, if i tend to sound juvenile throughout my skin care posts, please excuse me- i'm relatively new to the world of skin care! Oddly enough. It's probably because i've had acne for the entire duration of my teenage years so my main focus has always been on acne related products before this as much as i had liked to try on other things. Because what's the point of having products which promise to "whiten and add radiance and shrink pores etc." when i still have pimples on top of it anyway? 
So anyway, to fight all this…dryness, i've been slapping on moisturizer like craycray and drinking lots of water. Believe it or not, i sometimes only have like a few sips of water a day because…idk. It's just something i forget to do usually. For moisturizer, because of my oily combination skin, i try to stay away from oil-based lotions because eugh i cannot stand the grease that appears on my face. So instead i use Garnier's Moisture Rescue Refreshing Gel-Cream.
I love everything about it (other than the fact that i have to dig it out of a tub or fuss with a spatula). You can tell that it's super moisturising because it leaves a film on your skin (which some people may not like but i do), sort of how it feels with expensive face oils or if you were to use a sleeping facial mask before bed. It's not greasy but you can tell that you have it on. Not ideal for pre-makeup but i prefer using it when i'm lounging at home or before hitting the sheets. Oh and it's cheap as chips which is always a plus point!
Other than that, on days when i need some moisture but not an oil spill, the Boots Skin Clear Mattifying Lotion has been a godsend.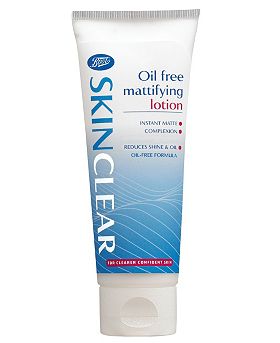 Another suuuuper affordable drugstore product (i think it was only about 200 baht when i bought it in Bangkok! Ahhh!). It goes on like a dream for people with oily-prone skin which makes it perfect for pre-makeup usage. It quickly dries off in a semi-powder like consistency which i sew appreciate. However, i tend to stay away from it during especially dry spells because i sometimes feel like it focuses more on absorbing oil rather than moisturising.
On top of my moisturizer and whatnot, i just add my trusty Bio Serum on the areas where it's dryest and has most blemishes a.k.a. my cheeks.
Because i'm so afraid of dehydrating my skin any further, my facial foams  have been banished to a dark corner. OKAY HOLD UP. Let's just clear things up for a moment. When i say "facial foams", i really mean a classic face wash which comes out of a normal tube and lathers into a foam a.k.a. something like this. Foam cleansers are known for stripping away natural oils, sometimes leaving your face feeling really tight. I like that squeaky clean feeling sometimes because you can tell your face has really been cleansed but eugh i can't- not now at least.
So i've been sticking to gel cleaners (which i actually don't like because wth they don't even foam so sometimes it feels and looks like i'm just washing my face with viscous water) such as my TEA TREE SKIN CLEARING FACIAL WASH from Body Shop. It doesn't strip my face off its moisture  and it also feels super gentle. I honestly don't notice any visible effects from using this but somehow in some way i feel like its working underneath to keep my spots at bay. Ya get?
I'm so glad that my skin is back to normal finally! If i had to choose, i'd prefer to have drier skin instead of a grease pan tobe completely honest. But all in all, i'm so grateful that i haven't had pimples in a while. Now i can finally focus on other aspects of my skin! ❤